Model:LDT-JCBD-5000
IC Card Data Verification Machine LDT-JCBD-5000
SUMMARY
This machine is very useful in quality checking for lots of batch of IC cards. It can reject the disqualified cards which generate by previous procedure machines or misoperation by operators. This machine can compare the original data in PC software with the printed info or embossed info, magnetic stripe info, contact or contactless chip info on the cards. If the all the reading data matches the original data, the cards go to the output magazine. If not, go to the reject box.
FEATURES
1. Checking if the data info of the card surface, magnetic stripe, chip data matches with the original data or not.
2. Applying the chip reader to checking the chip function is complete or not.
3. Applying OCR vision system to check the embossed characters and also the quality of the gold stamping of the characters.
4. The machine can apply the contactless reader to check the connection of inlay and chip is OK or not for the dual interface card.
5. The disqualified cards and not matched cards go to the reject box, the qualified cards go to the output magazine. 6. The machine is modular design. So it can design according the clients' request. It can add more function, like the barcode reading. It can reduce the magnetic stripe encoder if no need.
7. Tailor-made is acceptable to adapt to different requirements.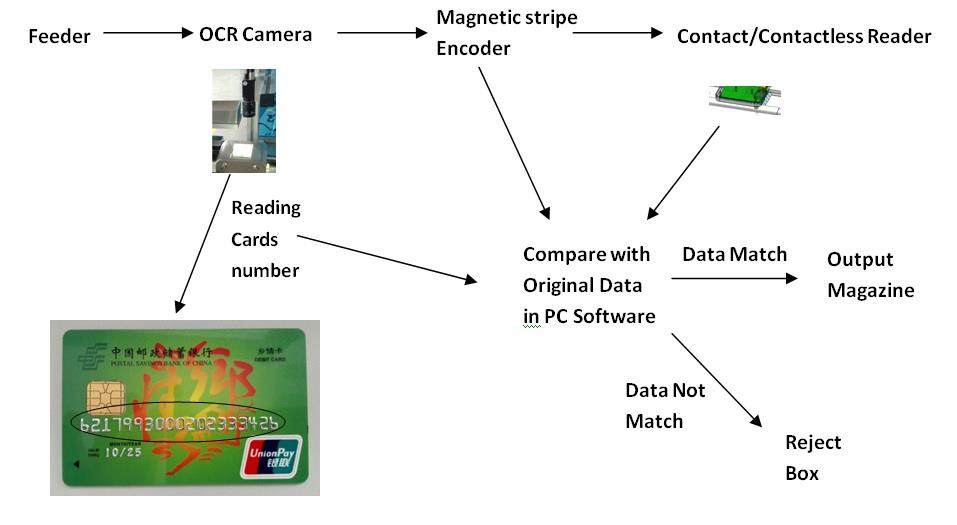 | | |
| --- | --- |
| Model | LDT-JCBD-5000 |
| Card Size | CR80 other size is acceptable please specify |
| Card Material | PVC, PET, PETG, ABS etc. |
| Speed | Around 5000 Cards/Hour. |
| Dimension | 1700(L)×680(W)×1600(H) mm |
| Weight | 300 Kg |
| Power Supply | 1 KW, AC 220 V, 50/60 Hz |
| Compressed Air | 0.6MPa |
| Operator | 1 Person |