Model:LDT-VCM-18000

Overview
This system is based on vision inspection principle, which integrates optics, electro mechanics and computer software technologies.


It is a fully automatic plastic/smart card visual inspection system developed for the standard card appearance quality detection and OCR (optical character recognition) specifically.

According to the technology, it's composed of several modules. Each module has its special function. These functions work in one machine ensures the security, stability, accuracy and c
onvenience of defect inspection and identify of characters in printing on both sides of the cards.


WJ-18000 Auto card vision inspection system has been widely using in card manufacturer in recent years, can increase management; keep card quality standard in high level instead of manually working. Meanwhile, reduced factory labor cost enormously!


Application
SIM/Banking Card Manufacturer

Plastic Card/Tag Manufacturer

Cards Personalization Bureau

Inspection Item (Typical)
Ink spots

Air bubbles

Missing letters

Scratches on surfaces

Laminated scratches

Lamination dirty spots

Blebs and enclosures

Signature position

magnetic stripe position

hologram position and defects

Partial missing of lamination foil, holes in the lamination foil
Technical Parameters
Working Speed (Typical) :

Operation environment:
Air Supply:
Air pressure: 0.45-1 MPA

Air flow: no less than 20L/min

Quick connector for air tube is required in the vicinity of machine installation site, and the distance between the connective location and the machine shall be less than 3.5 meters.
Electric Requirement :
Grounding resistance: <10Ω

Power supply: 220V±10%,48~62Hz

The standard 220V AC power source shall be supplied for this system, and the reliable third kind of protective earthling is required.

The total power is about 1.6KW,and an independent power outlet is required —— Using the standard triple power outlet whose distance to the machine is less than 1.5m and admitting that the electric current of the outlet and the circuit is more than 10A.



External Dimension :
Mainframe: 2540(L)*710(W)*1500(H) •

Issuing part: 1400(L)*710(W)*1500(H) •

Collecting part: 1500(L)*710(W)*1500(H) (the issuing part and the collection part can be adjusted referring to the requests)Full Auto Card Surface Detection Machine (Detection Module)
Full Auto Card Surface Detection Machine (Detection Module) External Detection Module Introduction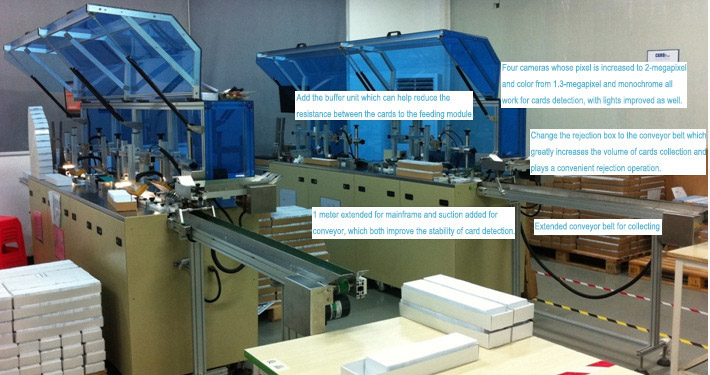 The test can be accomplished at once as a result of detecting the both sides concurrently with four cameras working online.
Working Flow

Defects can be detected: Surface scratching, laminated watermark, air spots, bubbles, gas blots, punching errors (black edges), unclear print, fringe, watermarks, etc.

Location of the card LOGO, Union Pay sign, VISA sign, magnetic stripe, signature panel, etc. And the detection of the external dimension.