This machine is used for sorting cards into corresponding output magazines from mixed cards. This machine applies vision system / magstripe encoder / contact or contactless chip reader to get the info from the cards. Then the data would compare with imported data form the software. It can make sure every card into the correct output magazine for its sorting setting.
This machine can save labor cost for sorting. It is very useful to sort the card numbers, patterns into the corresponding patches. It is applied for high standard sorting requests like bank cards, ID cards, social insurance cards, student cards, IC cards.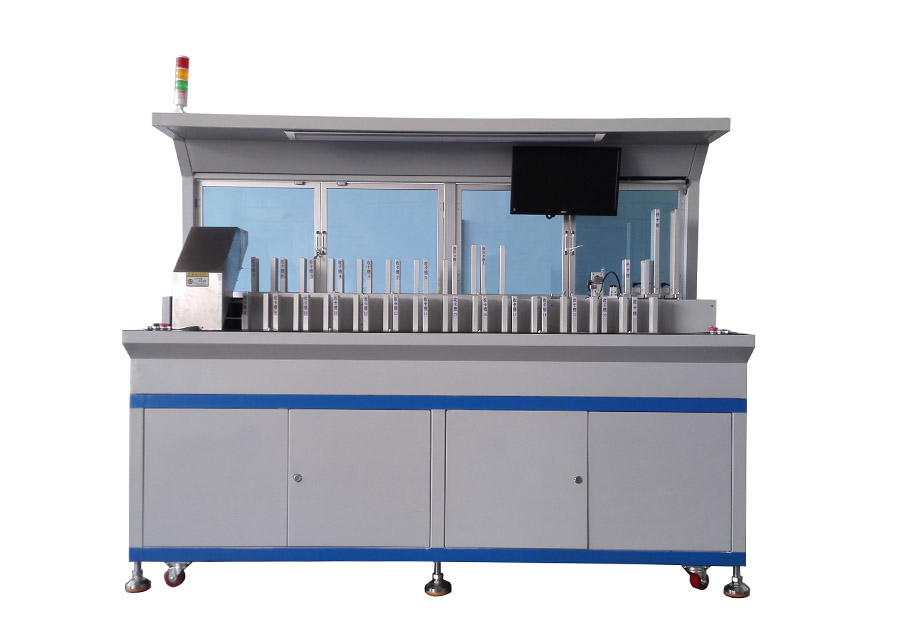 § The whole system is controlled by PC and apply software in the PC, makes sure the machine stably and easily to operate.
§ High reliable: using vision system/ magstripe encoder / chips reader and software to control the sorting, making sure every card orderly.
§ The unrecognized or no data cards would be rejected into the reject box.
§ The missing cards are recorded in a log file. It will be printed with details when job is done.
§ Applying motor + sucker in the feeder to make sure no scratch when feeding.
§ Twenty units of card magazines can handle 20 types of card pattern in disorder at one job. Extra collecting units can be added according to the customer requirements, up to forty units at maximum.
Work Flows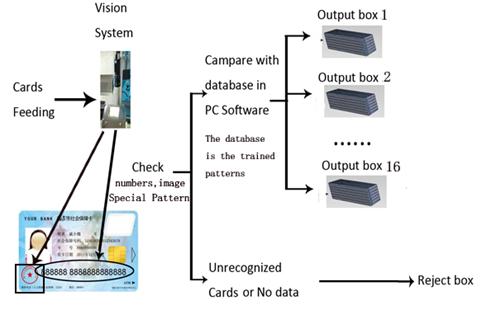 Parameters
| | |
| --- | --- |
| Productivity | § 4K PCS/hour |
| Card Size | § CR80 Standard Card |
| Card Material | § PVC, ABS, PET, PETG, etc. |
| Output Capacity | § 200 PCS |
| Weight | § 900Kg |
| Power Supply | § 5 KW, AC 220 V, 50/60 Hz |
| Compressed Air | § 0.6 MPa |
| Dimension (mm) | § 2150(L)×740(W)×1700(H) |